Operation Neptune
Please consider supporting this project!

The Normandy Landings are about to free Europe from the Nazi boot. But Hitler still has an ace up his sleeve:

THE Ü-SHARK PROJECT

Deployed as a marine reinforcement of the Atlantikwall, an army of genetically modified white sharks defends the coast of the occupied territory from an Allied invasion.
But Hitler did not know about the surfing skills of Private MacFlannagan, a Hawaiian infiltration expert, trained to kick Nazi ass.
Shoot the Nazi sharks!
Dodge naval mines!
SURF FOR YOUR COUNTRY!
-------
Ü-Shark, Teutonic Terror is a transmedia experiment that includes a minigame created in Pico-8 and a shittly drawn comic, with all the flavor of the worst B shark movies.
Join us in the continuous development of a game created with nostalgic technology along with the episodic publication of a comic that looks like drawn with feet!
-------
ROADMAP

VIDEOGAME
überrealistic deep ocean waves simulation.
Main character surfing around with surf trail and water splashes
Circular world like Defender
First mob test, naval mines
Surfing enemies,
Angry nazi seagulls?
Weapons, bullets and pewpewpew
Lifes, points?
Support crates

More enemies
Stages? Missions?
Final boss
Main menu, ending screen
Polishing and sound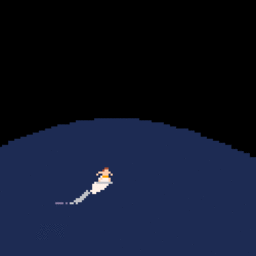 COMIC
Prologue
Chapter 1: The plan
Chapter 2: Baptism by fire
Chapter 3: Hitler's

disappointment

Chapter 4: The darkest hour
Chapter 5: Three minutes countdown
Chapter 6: Minced Meat Beach
Chapter 7: Stars and bars
Epilogue

EXTRAS
Having fun? Please consider supporting this project! (there's a button up there, right below the game!)
Download
Click download now to get access to the following files:
01 U-SHARK Prologue.pdf
456 kB
01 U-SHARK Prologue.cbz
7 MB
02 U-SHARK The Plan.CBZ
3 MB
02 U-SHARK The Plan.pdf
486 kB
02 U-SHARK Baptism by Fire.cbz
5 MB
02 U-SHARK Baptism by Fire.pdf
677 kB
operationneptune_windows.zip
1 MB
operationneptune_raspi.zip
1 MB
operationneptune_osx.zip
3 MB
operationneptune_linux.zip
698 kB
Comments
Log in with itch.io to leave a comment.
I can shoot only left. I couldnt shoot right.
You should be able to do it! Press Z to shoot left, X to shoot right! :)